Motorsports Racing News & Blog Articles
Stay up-to-date with motorsports racing news, products, and trends from around the world.
2 minutes reading time
(312 words)
2023 Husqvarna Norden 901 Expedition Certified by EPA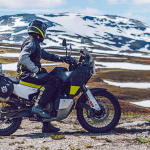 When the Husqvarna Norden 901 entered the market for 2022, one of the first things we asked was when we would see a more adventure-focused version. That is, after all, the modus operandi for Husqvarna's sister brand, KTM, which gave the 890 Adventure an upscaled R version.
We don't have much longer to wait, as the U.S. Environmental Protection Agency has certified the 2023 Norden 901 alongside a new Norden 901 Expedition model.
While we haven't heard any official word yet, the Husqvarna Norden 901 Expedition has been anything but a secret, with photos and even video of the bike popping up around the internet since Husqvarna's dealer summit last July. We've embedded one video below, and members NordenForums.com have shared photos from the dealer meeting.
Based on the photos and other details shared on NordenForums.com, the Expedition will come standard with soft luggage, a touring windscreen, a heftier skid plate, heated seat and grips, center stand, GPS mount with a connectivity unit, and special graphics. The Norden 901's WP APEX 43 fork will be replaced with longer-travel 48 mm XPLOR forks, though there was no mention of changes to the rear suspension. The Expedition will also come standard with the customizable Explorer ride mode which was offered as an optional accessory for the regular Norden 901.
Several members of the forum claim to have already put down deposits for a Norden 901 Expedition, with an expected U.S. MSRP of $15,799, or $1,300 more than a regular Norden 901. Members also report being told that official information will be released on Feb. 1. If that holds true, then we should have more details in a little more than a week.
Become a Motorcycle.com insider. Get the latest motorcycle news first by subscribing to our newsletter here.
The post 2023 Husqvarna Norden 901 Expedition Certified by EPA appeared first on Motorcycle.com.
Copyright
© Motorcycle.com