Motorsports Racing News & Blog Articles
Stay up-to-date with motorsports racing news, products, and trends from around the world.
10 minutes reading time
(1923 words)
2023 Suzuki GSX-8S Review – First Ride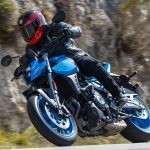 The Route Napoleon is considered one of the best drives across France. It starts near the French Riviera and runs up to the southern tip of the Alps. The route earns its namesake by following the path that the one-time French emperor used to covertly make his way north after escaping his first exile. Despite wet conditions with gravelly sections enroute and frost at higher elevations, it was a most excellent place to have our first dance with Suzuki's new naked, the 2023 GSX-8S. The second of two 776cc Parallel Twin-powered models from Suzuki, the GSX-8S proved its mettle over just a single day's ride in terms of being a contender in the middleweight naked category. Let's get to it. 
2023 Suzuki GSX-8S
Suzuki's new naked bike delivers a one, two punch with its excellent new Parallel Twin engine.
Editor Score: 82%
| | | | | | |
| --- | --- | --- | --- | --- | --- |
| Engine | 18/20 | Suspension | 10/15 | Transmission | 7.5/10 |
| Brakes | 7.5/10 | Instruments | 4.5/5 | Ergonomics | 9/10 |
| Appearance | 9/10 | Desirability | 8.5/10 | Value | 8/10 |
| | |
| --- | --- |
| + Highs Punchy low to mid-range Just the right size overall Design and styling are a welcome update | – Sighs Soft suspension Inconsistent qualities between bikes Driveline lash is a bit annoying |
As previously alluded to, the GSX-8S follows on the heels of the 2023 V-Strom 800 DE as the second model to use the all-new 800 platform. The two models share the engine and the steel main frame that the Twin bolts into as a stressed member. The 776cc DOHC Parallel Twin gets its capacity from a couple of 84mm bores with 70mm strokes, while the compression ratio comes in at 12.8:1. The 2023 Suzuki GSX-8S is said to produce 82 horsepower at 8,500 rpm, with 57.5 pound-feet of torque topping out at 6,800 rpm. Redline cuts in at 9,250 rpm.
Ergonomics seem pretty spot on for a guy who's 5-foot 8-inches tall with a 30-inch inseam (I could flat foot both boots).
The name of the game with Suzuki's new mill is its low- and mid-range power. After riding the V-Strom 800 DE about six weeks ago, I was actually surprised by the low-end punch on the GSX-8S. Suzuki told us previously that there was little change in mapping between the two bikes, but the 8S still feels punchier – if my perma-jetlagged brain can be trusted. This also makes it a wheelie machine in the hands of those well versed in the art. There is a noticeable hit of power in the mid-range as well around 7,000 rpm that tugs the corners of your mouth into a grin every time. That said, once you've made it much further into the rev range, power begins to sign off as you approach redline, so there really isn't much reason to have the motor screaming at the top of its lungs.
776cc of brand spankin' new Parallel Twin.
Speaking of lungs, as it was on the 'Strom 800, the 8S uses a horizontal six liter air box that is situated under the seat and breathes out of what Suzuki says is its first "short muffler" which keeps weight central and low. The cooling system uses a thermostat control valve which we're told aids in quicker warm up times and more stable combustion temperatures, leading to reduced exhaust emissions. A dual-counter balancer is also used to quell unwanted vibration and does a good job up until the point where you probably don't mind under liberal throttle twistage.
The 3.7-gallon fuel tank is fairly common in this category, and although we weren't able to verify mpg figures, it's likely safe to assume the ballpark it'll be playing in will be mid-40s.
A non-adjustable fork and preload adjustable (with a tool) shock are both supplied by KYB,and both offer 5.1 inches of travel. The seat is a manageable 31.9 inches from the ground, and it's a comfy perch, indeed. A couple of 17-inch cast wheels are right for this sporty steed and are shod in Dunlop Roadsport 2 rubbers. Trail and rake is 4.1 inches and 25 degrees, respectively. Combined with the 57.7 inch wheelbase, the chassis geometry leads to a stable, well-handling ride. Curb weight is said to be 445 drippin' wet. 
Riding the GSX-8S is a thoroughly digital affair thanks to the ride-by-wire throttle. Unfortunately, cruise control was not bestowed upon the 8S.
The GSX-8S features many of the same electronics, which Suzuki refers to as the Suzuki Intelligent Ride System (S.I.R.S.) seen on the V-Strom 800, and they're controlled via the left switchgear through the five inch TFT display. S.I.R.S. includes the Suzuki Drive Mode Selector (SDMS) which gives the rider three options for throttle response, the Suzuki Traction Control System (STCS) offers three levels of intervention including off, and the bi-directional Quick Shift System (QS) does exactly what its name implies. SDMS and STCS can be adjusted on the fly. ABS has a single standard setting which can't be altered, and none of the electronics are IMU-based.
To the Route
I can't say the roads we spent time on didn't play into most of the GSX-8S's strengths – that's why it's always nice to get the bike back home for a follow up review or comparison test. Making our way inland from the Côte d'Azur toward the Route Napoleon required first navigating our way out of the maze-like small streets of a town whose official incorporation dates back to 43 BC. That is to say, the roads were tight, twisty, touristy, and offered varying levels of traction. In this, the GSX-8S' low seat height, generally nimble low-speed handling, size, and low-to-mid-range power all made for an excellent machine to attack the busy city. I did find the SDMS A mode (the most direct throttle response) to be a bit much. I chose to crank up the TC to 3 and switch the mode to B while in town to have one less thing to think about as we navigated traffic in what I'm sure was a perfectly reasonable and legal manner for southern France. The people honking must have been tourists.
Once we'd wrestled our way out of town, we set off to follow in the footsteps of the controversial French emperor. The road was bumpy, wet, and strewn randomly with gravel as we set off into the mountains, but the scenery was incredible. I managed to take in some of it between getting hard on the gas and then, likewise, on the brakes as we dove into hairpin after hairpin. The Nissin binders provide good initial bite and plenty of power as they squeeze the dual 310mm discs, even if feedback at the lever is dull. I kept the TC turned up and left the bike in B mode during this portion. The bumpy road also began to reveal the suspension's limits all too quickly. Mind you, we were taking it at a fairly hot pace. The lack of sophisticated damping was quickly apparent as the bike compressed and rebounded all too quickly. Bringing up the rear with some preload certainly helped, but there's no replacement for… damping. 
The GSX-8S might not handle as quickly as some others in the category, but it's a more than willing dance partner.
Eventually, we snaked our way higher up into the mountains, and although the temperatures dropped, the road was (mostly) clean and dry – A mode was selected, TC was backed off, and I never switched it back. The GSX-8S is an absolute blast to ride at a quick clip in the mountains. Yes, the suspension is a weak point, but it didn't keep any of us from thoroughly enjoying the route that Suzuki France had planned for us. Even with the stout punch available from the P-Twin, it's easy to modulate at the right grip. There is some noticeable driveline lash, but that could have likely been smoothed out somewhat by tightening up the chain (probably from all the journos before me pulling horn monos).
During one of our photo passes, we started checking out each other's assigned bikes and came to realize that despite all of the bike's preload being set at "2" on the stepped preload adjuster, at least one of the other bike's shock felt markedly stiffer. After we had the chance to swap machines, I also noted less driveline lash and a more sensitive quickshifter on another bike. These inconsistencies between at least three of the motorcycles at the introduction do give pause. Some of those things may be able to be adjusted out, or at least to the same effect, but the difference between shocks was puzzling. 
As far as the competition goes, the GSX-8S slots itself right between something like 12 bikes that can be considered "middleweight nakeds." You have the bikes at the 650-ish cc range and, then, the upperclassmen around 900cc. At $8,850, the GSX-8S is reasonably priced for the bigger bikes, but somewhat expensive for the smaller ones. In terms of weight, 445 pounds is hefty no matter which end of the spectrum you're looking at, though the bike masks the heft very well. Its power figures lean more toward the smaller middleweights, too. That said, the experience of riding the bike and the technology included, to me, have this bike punching toward the higher end of its weight class. 
Stepping back into my initial riding impressions and away from how the GSX-8S might compare to others in the category, I came away more impressed with the engine than I had expected. Despite the soft suspension, the bike maintains stability on smoother roads (and even bumpy ones if you're willing to dial your right wrist back) and the electronics are useful without being over the top. Suzuki has a history of making excellent motors, and I think this 800 platform is an example of just that. In the GSX-8S, the engine steals the show, but the entire machine is a blast to ride, even with the nits that I've picked. 
2023 Suzuki GSX-8S Specifications
MSRP
$8,849
Engine Type
776cc, 4-stroke, liquid-cooled, DOHC Parallel-Twin
Bore x Stroke
84.0 mm x 70 mm
Compression Ratio
12.8:1
Fuel System
Fuel injection
Starter
Electric
Lubrication
Force-fed circulation, wet sump
Ignition
Electronic ignition (transistorized)
Spark Plug
Iridium type x 2
Clutch
Wet, multi-plate type
Transmission
6-speed constant mesh
Final Drive
O-ring style chain, 525 x 118L
Front Suspension
Inverted telescopic, coil spring, oil damped, 5.1 inches of travel
Rear Suspension
Link type, single shock, coil spring, oil damped, 5.1 inches of travel
Front Brakes
Nissin radial-mount 4-piston calipers, twin disc, ABS-equipped
Rear Brakes
Nissin 1-piston, single disc, ABS-equipped
Front Tire
120/70ZR17M/C (58W), tubeless
Rear Tire
180/55ZR17M/C (73W), tubeless
Headlight
Mono-focus LED x 2
Tail Light
LED
Turn Signals
LED
Length
83.3 inches
Width
30.5 inches
Height
43.5 inches
Rake/Trail
25° / 4.1 inches
Wheelbase
57.7 inches
Ground Clearance
5.7 inches
Seat Height
31.9 inches
Curb Weight
445 pounds (claimed)
Fuel Capacity
3.7 US gallons
Color
Pearl Cosmic Blue, Pearl Tech White, or Metallic Matter Black No. 2/Glass Sparkle Black
Warranty
12-month unlimited mileage limited warranty
Extension
Longer coverage periods with other benefits available through Suzuki Extended Protection (SEP)
We are committed to finding, researching, and recommending the best products. We earn commissions from purchases you make using the retail links in our product reviews. Learn more about how this works.
Become a Motorcycle.com insider. Get the latest motorcycle news first by subscribing to our newsletter here.
The post 2023 Suzuki GSX-8S Review – First Ride appeared first on Motorcycle.com.
Copyright
© Motorcycle.com