Motorsports Racing News & Blog Articles
Stay up-to-date with motorsports racing news, products, and trends from around the world.
7 minutes reading time
(1395 words)
Best Battery For Harley-Davidson Motorcycles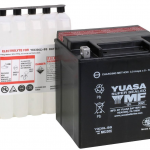 Modern motorcycle batteries have gotten so good that we largely don't think about them until the sad day that we thumb the button and hear the starter struggle to get our Big Twin to crank through the compression stroke – or even worse, hear the dreaded click-click of a dead battery. Like it or not, batteries are consumable items on a motorcycle, and without proper care, can die on us at the most inconvenient times. So, if you suspect that your battery is getting ready to give up the ghost, we're here to help you find a new battery to keep you headed down the highway. 
What to look for
The reality of V-Twins is that they require a good bit of power to crank over, particularly when cold. So, you can't just drop in any old motorcycle battery that will fit in the battery box and expect it to work. You'll need to do a little research. One good way to measure a battery's power is its Cold Cranking Amps (CCA) rating, which is a standardized measure that can be compared across battery models. While we, as riders of air-cooled motorcycles, probably won't be riding the the 0 degree F environment the rating is measured in, it's a quick way to be sure you're making an apples-to-apples comparison among batteries. 
When it comes to CCA, your new battery should have, at a bare minimum, the same rating as the OEM one. This means that it has the power to crank your engine effectively. However, if you have done any performance modifications to your engine, like higher-compression pistons, going for a higher CCA rating is a good idea. Additionally, if you're the type of rider who likes to sit and spend extended periods listening to the big stereo you installed, you'll want to bump up your replacement battery's capacity, too. 
Lead acid vs lithium ion
Although this topic can get quite heated, both types of batteries have advantages and disadvantages. First, lead-acid batteries are significantly cheaper. By being used for so many generations, these batteries are essentially commodity items. They do have some drawbacks: they are heavy and lose power when stored for extended periods without a smart charger. Lithium batteries are newer to the scene, and while they initially had some growing pains, they are now a viable option for many riders. While lithium batteries are more expensive, they are also significantly lighter, and weight savings is always good – even on a blinged out bagger. They also typically offer more cranking power than lead-acid batteries of a similar size, which is a really good thing. The power loss during extended storage is also significantly lower with lithium. The biggest drawback, however, is that in extremely cold weather, they have a significant drop off in performance until they get warmed up. This shouldn't be an issue for your typical three-season biker, though. In the end, the choice is up to you. 
FAQ
How long should my Harley battery last?
A lead-acid battery should last 2-5 years with proper care. However, extended idle time without a smart charger or repeated running of the battery flat will dramatically shorten the life span. Lithium batteries should last significantly longer. In our testing, we've had a lithium-ion battery last as long as nine years.
How many Cold Cranking Amps does a Harley need?
We'd always recommend getting the minimum CCA of the OEM battery, but if you lack that information, 300 CCA is a good minimum starting point. Go up in CCA if you have electrical accessories or engine performance modifications, like high-compression pistons.
Should I keep my Harley on a smart charger?
If  you have a lead-acid battery in your Harley, yes, you should use a smart charger to keep the battery in top condition if you're not riding regularly. Smart chargers have the ability to sense when the battery is fully charged, thereby preventing them from overcharging and killing your battery.
Additional resources
Lithium Motorcycle Batteries: Myths VS Realities – Updated
Lithium Motorcycle Battery Buyer's Guide
Lead-Acid Batteries Still Have It
We are committed to finding, researching, and recommending the best products. We earn commissions from purchases you make using the retail links in our product reviews. Learn more about how this works.
Become a Motorcycle.com insider. Get the latest motorcycle news first by subscribing to our newsletter here.
The post Best Battery For Harley-Davidson Motorcycles appeared first on Motorcycle.com.
Copyright
© Motorcycle.com