Motorsports Racing News & Blog Articles
Stay up-to-date with motorsports racing news, products, and trends from around the world.
8 minutes reading time
(1643 words)
Church of MO: 2002 Triumph Bonneville America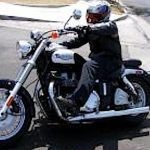 Today a Motorcycle.com photo shoot is at least a half-day affair involving thousands of dollars worth of Canon's finest gear and millions of pixels. Twenty years ago, it was a 10-minute errand on the way to lunch at the FlatCat on Normandie, with Clavin's clapped-out Olympus and half a roll of film. And let's not forget to stock up on Sparks on the way back to the office. I had completely forgotten about the Triumph Bonneville America, but it feels like we liked it.
Cool, a cruiser you can ride without Harmful Psychic Repercussions
By John Burns
Jul. 20, 2002
Torrance, California, July 3, 2002 — Maybe I do have too much self-image tied up in the motorcycles I ride, but the fact remains that on many "cruisers," I feel like some sort of exhibitionist clown. The typical cruiser to me too often feels like the motorcycling equivalent of a 70's land yacht: too much festoonery, too many functionless protuberances, too much weight for too little performance–too landau-roof- with-opera-windows.Maybe I'm getting old, or maybe I've been riding too many high-powered crotch rockets lately, or is it that I've been having too much fun on "underpowered" bikes like the Buell Firebolt? (I just got back from the Kev Schwantz racing school in which the Man and myself had the dice of death, at Road Atlanta, on bone-stock SV650s.)
I'd have to go with the combo platter; I've matured enough to love bikes at all power levels. I've been trying to overcome my anticruiser bias, really I have. It's not easy. This Bonneville America, I must say, may be the best therapy I've yet had. I'm not ashamed to be seen upon it. When I'm not going far, I wear an open-faced lid and a grin.
I really can't put my finger upon why, because the Triumph contains its share of frippery too. The fat exhaust headers are heat shields covering skinnier tubes. The chrome air cleaners are plastic covers over a plastic airbox (I take it back, they're metal!). If "real steel" is important to you, you won't like that the fenders are plastic, but I like that the Brits managed to resist the Japanese urge to over-stylize them at least (check the fenders on the Volusia).
"The whole bike has a nice minimalist look to it in fact."
What looks like an old Triumph twin really is a new Triumph twin, with functional cooling fins that appear to use the same imperfect postwar production technique as the old bikes. There's no "hidden" radiator. There is an oil cooler, plumbed in
with actual braided-steel lines.
I guess I like the America, when it comes down to it, because it's the only mid-size cruiser I can think of that isn't trying desperately hard to look like a Harley-Davidson. I like history, I suppose I like the fact that H-D and Triumph used to clash mightily, and by riding a Triumph I am riding the competition instead of an H-D imitator.
When you look at the Bonneville from the right angle, it looks like it knows what it's trying to be, and that thing is somewhat unique.
The key is in a silly place–the norm for cruisers–under your left butt cheek, which gives the impression you're adjusting your panty hose every time you need to turn it off or on. After de-wedgying yourself, though, pulling out the choke knob on the left Keihin CVK carb and hitting the starter has the parallel twin into an immediately steady idle, and the throttle position sensor lets you motor off, unlike so many lean-carbed cruisers, lickety-split.
A 270-degree crankshaft, instead of the 360 in the regular Bonneville, is supposed to impart the America with a funkier character. Actually it feels just the opposite; the 270 engine runs even smoother, while producing a furry exhaust note with whistly/whirry overtones. The clutch pull is light, and the five-speed gearbox gets the job done nicely, its long, long linkage rod acting as a sort of low-tech damper for the shifter's toe. Use the adjusters to adjust shift pedal position, or run over a rock and bend the rod, your choice. Either way works.
The thing I do love about cruisers is the very low seat height–27.5 inches for the Bonneville. What I dislike is the forward footpegs, which make your tailbone carry all your weight. Our Harley-riding friend Billy points out, though, that cruisers simply employ different muscle groups than do sportbikes, and that you get used to them. Maybe he's right. At first I found myself fighting the 80-mph breeze aboard the America; after a few weeks, it seems to be less of a problem but now I can't unclench my fists or walk upright.
Really it's not so bad, and would be even better if you're taller than me; then you'd be better able to press your butt against the bolster of the very nice seat to brace your torso against the wind. It's fine for me for an hour at a time, but I still would much rather travel any sort of distance on a sportbike (with my feet up under me). Even Jesse James's radical choppers place the footpegs more beneath the rider than most production cruisers. You're right; for this kind of money you could have a nice Sportster, but isn't that an oxymoron? No Sportster cruises as sweetly and smoothly as the Bonneville at freeway speeds.
"The Bonneville's speedo always seems to be climbing at a fair rate on the occasions I've ventured up to The Ton upon it."
Grips could be a bit less farther apart to ease lane-splitting, but are otherwise in a reasonably natural position, and once rolling place the rider into a pretty cool Elvis-on-the boulevard stance which is very nice for round-town trolling and airing out one's Conway Twitty pompadour. Long as you don't encounter any big craters, suspension's at the upper end of middleweight cruiserdom in terms of damping and compliance, and with the thick seat, the bike gives up a nice ride.
Obviously, it's not a sportbike, but this one does have a surprising amount of ground clearance before the pegs drag–enough to amuse yourself and surprise an unsuspecting sportbiker or two, I wouldn't be surprised. The front brake feels like it could use a good bleeding, and still feels that way after it's bled. Rear's good, though.
Forty-four horses as you know, is no great shakes, but it feels like more. (And no use wondering why, if this engine is so close to the standard Bonneville, how it lost 12 horses or so in the cruiserfication process.) Anyway, I begin to comprehend that bikes like this are like motorized Paxil tablets, aren't they? On your R1, people are always in your damn way and when is this light going to change? On the Bonneville, you are but another fish in the sea of love, baby, and a time for every purpose under heaven. You slow down and smell the exhaust fumes, commune with your fellow commuters, and if somebody in a big Benz gets on your six o' clock, you hold them up on purpose cause speeding's illegal and dangerous and they're a capitalist pig, man.
Still, 44 horses is plenty, when the light turns green, to leave the rest of the world in your dust, and the Bonneville's speedo always seems to be climbing at a fair rate on the occasions I've ventured up to The Ton upon it. Our European friend Yossef Schvetz's test is a good one: Would I like to keep the America around the house? This is the first (relatively) inexpensive "cruiser" I can remember where the answer is yes. Calling it the America is the nicest compliment the Brits have payed us in years.
Second Opinion:
Minime
"What I can't overlook, however, is how good the suspension is."
I've got to hand it to the British. They've always made some of the best beers in the world, and they're finally starting to figure out how to make suspension work well, too. Triumph's Bonneville America is not a bike I was looking forward to riding as I still have issues with its styling. What I can't overlook, however, is how good the suspension is. Its motor is nothing to backfire at, either. Sure it could use some more power (another 15 horses, old chap?) but it makes do with what it's got. And as John says, it's not pretending to be anything.
It is what it is what it is.
From 5 to 75 miles an hour, the Bonneville America is just about my favorite cruiser, methinks. And my hat's off to the Hinckley peoples for doing such a fine job.
**Specifications**

Engine
· Type
790cc air-cooled parallel twin, DOHC 4v/cyl
· Capacity
599cc
· Bore/Stroke
86 x 68mm
· Compression Ratio
9.2:1
· Valve Adjustment
8,000 miles
· Fuel Delivery
two 36mm Keihin CVK carbs w/ electric heaters
· Ignition
Inductive w/ TPS
Transmission
· Final Drive
530 chain
· Clutch
Wet multiplate
· Gearbox
5 speed
Cycle Parts
· Frame
Tubular steel cradle
· Swingarm
Twin-sided, aluminium alloy
· Front Wheel
2.50 x 18 in. spoke/ 110/80R18 (inner tube)
· Rear Wheel
3.50 x 15 in. spoke/ 170/80R15 (inner tube)
· Front Tyre
120/70 ZR 17
· Rear Tyre
180/55 ZR 17
· Front Suspension
41mm fork; no adjustments
· Rear Suspension
Twin coil-over shocks; adjustments for preload
· Front Brakes
One 310mm disc, two-piston caliper
· Rear Brakes
One 285mm disc, two-piston caliper
Dimensions
· Seat Height
27.5 in.
· Wheelbase
1655mm (65.2 in.)
· Rake/Trail
33.3 degrees/153mm (6 in.)
· Weight (Wet)
550 lb (249 kg)
· Fuel Mileage
44 mpg
· Fuel Capacity
4.4 U.S. gallons
· Colours
Black/Silver, Red/Silver
Suggested Price
$7,999
The post Church of MO: 2002 Triumph Bonneville America appeared first on Motorcycle.com.
Copyright
© Motorcycle.com