Motorsports Racing News & Blog Articles
Stay up-to-date with motorsports racing news, products, and trends from around the world.
2 minutes reading time
(497 words)
Friday Forum Foraging: 2014 Honda CTX 1300 Deluxe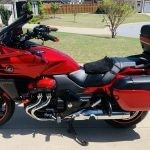 Where do we even start with this one? Found on our sister site, CTX1300forum.com, there's a lot to talk about with this CTX1300. Though I suppose we could start with the CTX1300 itself. If you don't remember, the CTX1300 is a little bit like a space-age cruiser. You've got that long and low appearance we're used to with cruisers, but with a very distinct, almost futuristic, style that clearly can't be lumped in with your traditional cruiser. Honda was going somewhere with this, we're just not sure where. Then there's the engine. Based on the VFR1200 V4, this compact four-cylinder packed a healthy amount of power and driveability, along with a very cool soundtrack to boot.
All of that leads into what we have here. This is a really clean example of a CTX1300 that has clearly been used for what it was meant for – burning away miles in absolute comfort. Judging by how the paint shines and the chrome pops in these photos, you'd think this was a new bike with no miles. But that's far from the truth. With a tick over 19,000 miles on the odometer, this owner takes care of their CTX just as much as they ride it. They even claim that not a single body panel tab has been broken, which is actually an impressive feat on today's motorcycles.
Sure the title of the post is a bit over the top, but you do need to admit it's a clean bike. With an asking price of $8,499, it's also a decent deal for the right person. See the full listing below.
THERE IS NONE LIKE HER
2014 Honda CTX 1300 Deluxe.
This rare bike has established a cult-like following for all the good reasons. But none in the world looks like this one. As the original owner, I have pampered her from mile 1. Always garaged & under Dust Cover, meticulously broken inn & maintained, never dropped, never abused, & only ridden 19,364 pleasure miles, on fair weather days. And it shows, as People are all ways just stunned that this is not a brand new bike. All accessories shown will be included in the asking price of $ 8,499.00
Givi V47 color matching Top case with integrated full light kit Show chrome accessory power module Pannier luggage inserts, one regular & one as a cooler. Color-matching Valve Covers Center Stand Air Hawk adjustable seat cushion Accessories Lights Accessories Bar Ends Accessories power outlets with voltage meter Gear Indicator Rox anti-vibration Handlebar Riser Garmin Zuemo GPS ( hardwired) Tire Monitoring System Puig Windshield with add-on spoiler NO BROKEN TAB ( so all panels still align perfectly
)
To the serious buyer, interested in a CTX 1300 Deluxe- if you see her in person, you will agree with me that she looks Better than New!
See the original post at the CTX1300 Forum.
Become a Motorcycle.com insider. Get the latest motorcycle news first by subscribing to our newsletter here.
The post Friday Forum Foraging: 2014 Honda CTX 1300 Deluxe appeared first on Motorcycle.com.
Copyright
© Motorcycle.com