Motorsports Racing News & Blog Articles
Stay up-to-date with motorsports racing news, products, and trends from around the world.
2 minutes reading time
(393 words)
Friday Forum Foraging: Hayabusa Dragbike Rolling Chassis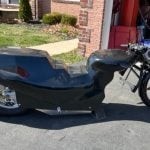 Well, here's something a little different, and it comes to us from our sister site psychobike.com. If you've ever wanted to give proper drag racing a try, this rolling chassis of a Hayabusa drag bike could be the perfect starter package. If you don't know what a rolling chassis is, well, it can mean many things. At its most basic, a rolling chassis is just that – a chassis/frame and the required pieces to fit wheels on it so it can roll and move around. What we have here appears to be a complete motorcycle, minus an engine.
I don't know much about drag bikes, but I do know a thing or two about building a bike into something to serve a specific purpose (track riding in my case): Unless you really love turning your own wrenches, and the associated costs of doing so, it's easier and more economical to pick up someone else's project that has most of the work already done. That seems to be the case here.
According to the seller, this rolling chassis has never been raced, will weigh well under 400lbs when ready to rock, and can get you into the mid-eight-second territory with a stock Hayabusa engine. It's already setup to accept said Hayabusa engine, so if you have a modified one laying around, here's the perfect home for it. Billet motor mounts, Brembo brakes, controls, wheels, tires, and bodywork are included. All this for $3800. Sounds pretty fun to us. Here's the full listing:
Drag bike Chassis $3800
70" drag bike chassis, Chrome Moly Steel, super lightweight and super strong. NEVER RACED. Setup for a Hayabusa engine. Will run low to mid 8's with a stock engine. Race ready will weight 340-360lbs.The motor unbolts and drops straight down (20m to remove) for easy access/maintenance.
10×26-15 rear tire on a 10" wheel.
Includes all of the following:
Powered coated chassis, billet motor mounts, front and rear Brembo brakes, master cylinders, throttle, power/start controls, front and rear wheels and tires. Fitted body. Standard front end and clip on bars. Correct offset front sprocket. Rear sprocket. Add your Busa engine and race..
See the full post at psychobike.com.
Become a Motorcycle.com insider. Get the latest motorcycle news first by subscribing to our newsletter here.
The post Friday Forum Foraging: Hayabusa Dragbike Rolling Chassis appeared first on Motorcycle.com.
Copyright
© Motorcycle.com