Motorsports Racing News & Blog Articles
Stay up-to-date with motorsports racing news, products, and trends from around the world.
5 minutes reading time
(969 words)
Marc Marquez: Love Him or Hate Him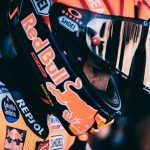 Events at Aragon this past weekend have re-ignited the firestorm that has surrounded Marc Marquez since he rode in the 125cc class back in 2008 (the year I started covering MotoGP). The eight-time world champion, his boyish good looks having been displaced by a steely persona, has as many fans as detractors. Let's see what's at the root of this split.
First, whenever we see a rider win his first grand prix or his first championship, there is almost always an outpouring of emotion, often tears; such celebrations have obviously come at a cost to the rider and his family. The winnowing process in motorcycle racing is as brutal as it is in pretty much everything that calls itself a sport. For every first-time winner, at any age, there are hundreds of boys and young men who've had their hearts broken. The thought crossed my mind at one time that these dramatic, emotional reactions were put on for the cameras. But, in truth, these riders would probably prefer their fans not to see them in tears. So the emotions and the drive to win we see in every rider, including Marquez, is to be expected. (By the way, the process also occurs in golf, which calls itself a sport despite the fact that you can smoke and drink while playing.)
A number of Kool-Aid drinkers, who have the number 46 tattooed on their asses, hate Marquez for having allegedly cost Rossi the title in 2015. It seems to be an unwritten law of the universe that haters are going to hate. There have always been fans who despised Rossi for one reason or another; the same is true for Marquez. And, to be fair, pretty much all the great riders going back to 1949. Along with the emotion and drive to win, the great riders learned that to win in grand prix racing a rider will have to be, on occasion, ruthless. There will be charged moments in races in which it becomes him or me. One of us is going down, and it's not going to be me. Is such thinking less than charitable? Undoubtedly. Is it necessary if one aspires to champion status? Absolutely. The same people who call Marquez a bully were the ones cheering Rossi as he put Stoner's dick in the dirt at Laguna Seca in 2008, cutting a corner through a sand trap in the process, not bothering to rake afterwards.
One thing Marquez supporters can always say to his critics: Scoreboard. See below.
All that yellow. His first seven seasons in the premier class were incomparable. Of course, the eye is drawn to the single disqualification at Phillip Island in 2013 which came his way because, having clinched the title by then, it didn't matter and he therefore didn't care. (Like skipping high school classes after being accepted to college: Who wouldn't?) People also need to recall 2014, when he won the first ten races of the season, then loafed to an inexplicable P4 at Brno before winning again at Silverstone.
One last point from me before you guys get your teeth into this. Let's assemble a list of MotoGP riders one would be well-advised to give wide berth, in addition to Marquez who, at age 30, is witnessing a deterioration in his reflexes and, one suspects, a heightened sense of self-preservation, having entertained the prospect, now several times, of becoming blind in at least one eye. Here's ten off the top of my head:
Barry Sheene Kenny Roberts Freddie Spencer Eddie Lawson Mick Doohan Kenny Roberts Jr. Wayne Rainey Kevin Schwantz Valentino Rossi Casey Stoner
The fact is all these guys won MotoGP titles, most of them more than one. Given the fact that a collision on track provides both riders an opportunity to get seriously injured, or worse, and is, under normal circumstances, to be avoided if possible, none of these guys went out to deliberately cause a crash. Shit happens at 250 kph. Unless the intended victim were a teammate, none of these guys would back down from a fight, if only to keep their reputations. Marquez, with his massive presence, is another of these tough guys who welcomes contact and who has initiated it in the past. What occurred on Sunday last was not Marquez initiating either contact, but Marquez trying to bully his way through the pack–all the way through the pack from P15–on the first lap. His comportment on Lap 1 at Aragon was not his finest moment. If, as is possible, he comes back to chalk up a few wins at season's end, I think most of the moto racing world will welcome him back.
Marquez makes the riders around him better at taking evasive action. That's the most charitable thing I can think of to say at this moment. It's like hating the sin, loving the sinner. It's like hating what a fellow citizen says but defending his right to speak freely. Marquez, despite his movie star good looks, with never a whisker out of place, has been bred to race this way. He has experienced unmatched levels of accomplishment. He has been disqualified exactly once and that was arguably intentional. As Kevin Hart says, "It's what I do."
Love him or hate him, Marc Marquez has been an incandescent talent in this sport, just the guy to make people stop mourning the loss of Valentino. Will one of the young guns at Ducati take the reins of the premier class in the next season or two and peel off 10 wins to start a season, maybe collect six or eight titles?
Unlikely.
Become a Motorcycle.com insider. Get the latest motorcycle news first by subscribing to our newsletter here.
The post Marc Marquez: Love Him or Hate Him appeared first on Motorcycle.com.
Copyright
© Motorcycle.com