Motorsports Racing News & Blog Articles
Stay up-to-date with motorsports racing news, products, and trends from around the world.
6 minutes reading time
(1237 words)
MO Tested: Arai Contour-X Review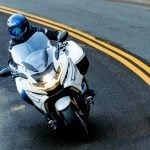 For more than seven decades the Arai family has been producing premium handcrafted helmets in Japan. The Arai patriarch has been able to rest at ease knowing that they have, to the best of their ability, developed the safest helmets possible for their customers. While there have been plenty of changes over the years in terms of materials and other things, more philosophical viewpoints like the smooth, round R75 shell shape designed for glancing off of impacts have become mainstays of the brand.
Arai Contour-X
The Arai Contour-X is designed to fit into the line-up just below the Corsair-X as a sporty, touring or everyday lid that features unparalleled comfort and a number of other useful features.
Aesthetics
9/10
Protection
9/10
Comfort
10/10
Value
8.5/10
Weight
8/10
Innovation
8.5/10
Quality
9/10
Options
8.5/10
Weather
9.5/10
Desirability
9/10
Editor Score: 89%
+ Highs

Unrivaled comfort

Aerodynamic

Excellent ventilation 

– Sighs

The shield and locking mechanism can be finicky

The 3D logo vent seems counterintuitive

A larger chin curtain would help in less desirable conditions
The latest helmet to hit North American shores from the Japanese marque is the Arai Contour-X. This helmet fills a sport-touring and everyday use category for Arai, slotting in between the likes of the Corsair-X at the sportiest end of the spectrum and the Signet/Quantum and Regent-X at the other end. In other parts of the world, the Quantic – as it's called in the EU – has been around since mid-2021.
Keeping the bad energy out
As mentioned before, the Arai shell shape has changed little over the years. There have been plenty of companies developing new ways to mitigate rotational energy transfers to the rider's head, but Arai strongly believes its R75 shell shape provides a strong and smooth surface that is better at glancing off impacts. "At Arai, we believe more performance can be found in avoiding, rather than attempting to manage, impact energy," explained Arai reps.
While the shell's components are hand laid, the eye port and vents are laser-cut.
What has been under continuous development over the years are the materials used to build the helmets. This latest shell's Peripherally Belted Complex Laminate Construction (PB-cLc2) is made up of more than 25 individual pieces and bound by Arai's latest proprietary Z-Compound resin, which we're told is both stronger and less expensive than what was previously used. Across the brow, which is traditionally the weakest point in a helmet, Arai has developed its own Superfabric (within its Formula One program, initially) to bolster the helmet's construction.
What sets the Contour-X apart from most of Arai's lineup is the slightly wider bottom opening. By adding a 5 mm flare at the bottom, Arai has managed to make the helmet extremely easy to don and doff. I never had much of an issue with this when using other Arai helmets, but apparently it was a sticking point for some. With the new design, it's impressive how much easier they've managed to make it with a subtle change. This makes quick hops around town, running in and out of shops, etc. that much easier.
The EPS liner inside the helmet uses the same one-piece multi-density construction that we have seen for some time now. Arai uses varying densities of EPS at specific points in the helmet to ensure each area is tuned to deliver optimal impact absorption. 
When the tab is up, the logo vents are closed.
Front and center is the new "3-D Arai Logo vent" which can be opened and closed with a sliding tab at the top. Out back, the Contour-X features a large aerodynamic spoiler which, like all of the vents on the outside of an Arai helmet, are designed to break away upon impact. The new chinbar vent and small upper vents do a surprisingly good job at flowing air and are easy to use with gloved hands at speed.
Slip inside
Arai's reputation for the utmost comfort doesn't falter with the Contour-X. In fact, the Contour-X is probably the most comfortable motorcycle helmet I've ever worn. In addition to the 5 mm wider opening making the helmet easy to slip in and out of, the new odor-resistant brushed nylon liner itself is extremely soft with just the right amount of support to ensure a safe fit. This can also be tailored by Arai's multi-layered Facial Contour System (FCS) which allows foam to be removed for that Goldilocks fit.
Despite what's going on outside the helmet, inside is a good place to be. Six front facing vents allow air to make its way through carefully routed ducting to offer excellent ventilation and cooling while three static and one adjustable port in the rear handle the exhaust. For the days when cooling is not a concern, the helmet shuts up tight and comes with a Pinlock 120 insert to quell fogging. There's also a small-ish chin curtain permanently affixed to the Contour's chin bar.
The liner is made of a mixture of Phoenix down and unicorn mane, or at least it feels like it.
Further accentuating the helmet's usefulness for touring and everyday use, Arai has included recessed areas for bluetooth communications systems as well as an opening in the neck roll to stow the wires. 
Braving the elements
I've been riding in a ton of rain lately, almost exclusively with the Contour-X. While I think it's a given that a helmet shouldn't leak, the Contour-X holds up just fine to the torrential downpours we've been experiencing out west lately. Snapping the included Pinlock 120 insert into the VAS Max vision shield was also a helpful touch in the inclement weather. Between rainstorms, the vents have proved themselves to be easy to operate and adept at the task.
As tested (equipped with the Pro Shield), the medium Contour-X weighs in at 3 lbs 9.5 ounces (1629g). For reference, that's 4.1 ounces lighter than my medium Corsair-X.
With a Cardo Edge installed as well as the optional Pro Shade and Pinlock, the Contour-X has proven to tick every box I could ask for in a helmet during our unusual weather shifts here in California. I'd be grabbing it each time I left the house anyway thanks to the comfort, but those extra features have highlighted just how versatile this setup is. 
As of now, Arai will offer five solid colors of the Contour-X starting at $740 with two standard graphics starting at $890. Availability is TBD at the moment, but we expect it shouldn't be long before the new lid hits retailers. 
FAQ
What head shape is the Arai Contour-X?
The Arai Contour-X accommodates a medium-oval head shape similar to the Regent-X and Corsair-X.
Are Arai helmets good?
We'd consider Arai to be one of the foremost helmet manufacturers in the world. With a product line spanning from two wheels to four, Arai has developed a legacy for premium handcrafted helmets for more than seven decades. 
Additional Resources
MO Tested: Arai Regent-X Review
MO Tested: Arai XD4 Helmet Review
MO Tested: Arai Corsair-X Review
MO Tested: Arai VX-Pro4 Review
We are committed to finding, researching, and recommending the best products. We earn commissions from purchases you make using the retail links in our product reviews. Learn more about how this works.
Become a Motorcycle.com insider. Get the latest motorcycle news first by subscribing to our newsletter here.
The post MO Tested: Arai Contour-X Review appeared first on Motorcycle.com.
Copyright
© Motorcycle.com