Motorsports Racing News & Blog Articles
Stay up-to-date with motorsports racing news, products, and trends from around the world.
8 minutes reading time
(1638 words)
MO Tested: Continental Conti RoadAttack 4 Review First Ride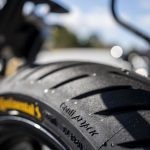 Was there anything wrong with the Continental RoadAttack 3? No, not really. Lead engineer Raphael Michels (who finished 3rd in the German supermotard series this season) sounds as if he was reluctant to attempt to improve upon it. But it's been five years, and engineering is what engineers do. Continental was already billing the 3 as a real high-performance street tire; now they're calling the new 4 a Hyper-Touring one. It fell upon me to travel to the BMW Performance Driving Center in Spartanburg, South Carolina, to get to the bottom of it all. 
Continental Conti RoadAttack 4 Tires
Incremental improvements over the already award-winning RoadAttack 3, with a big boost in wet performance.
| | |
| --- | --- |
| + Highs Linear, direct steering feel Super fast warmup even in wet and cold Hyper-touring performance also available in 19-inch fronts | – Sighs Less stimulating tread pattern? No BMW S1000Rs or S1000XRs were on hand for testing Need more time to parse North and South Carolina bbq |
Conti's HQ is in nearby Charlotte, and the two companies share a very close relationship: Continental is the leading supplier of OEM tires for BMW automobiles and quite a few motorcycles as well, and so we rolled out the performance center's entire BMW test fleet.
What's new?
Everything, of course, including a new compound with higher silica content for even better grip when it's wet and cold, with no negative impact on mileage, says Conti. New resins in the mix also make the tire even more sticky as well as more flexible for more grip when it's chilly. That greater flexibility means the new tire works better with lean-sensitive ABS systems.
New tread pattern too: The rear is grooveless until you lean 10 degrees, which is good for tire mileage. The grooves begin at 10 degrees of lean and continue until 40 degrees; past that you're back to being a slick, for maximum grip, high precision, feedback, and maximum confidence at high lean angles. 
The sidewall is different, now with negative sidewall lettering for a modern look.
The front RoadAttack 4 uses an aramid breaker, which is slightly stiffer than the polyester one in the rear tire, which makes the rear more flexible and more capable of carrying a heavier load, says Conti. That's part of what's called Easy Handling technology, which is supposed to benefit linear handling, accuracy, and overall feel. New for the RoadAttack 4, "GripLimit Feedback" is said to "increase the level of safety during extreme lean angles as the rider receives timely feedback from the tires for a higher level of control at the limit." 
They'll never reveal who Competitor 1 or 2 is.
MultiGrip is a pre-existing Conti condition: Using one compound across the whole tread gives the tires a really linear steering feel, since there are no transitions from one compound to the next. That's possible thanks to a strict temperature-controlled curing process that makes the compound harder in the middle, softer on the sides.
They're very proud of the 4's warm-up time, which they say consists of about two corners. All of it, Continental says, led to a 3-seconds faster wet lap around the famed Contidrom – down to 89.4 seconds – compared to RoadAttack 3.
On BMW's track
You need to suffer a bit before the fun starts, it's a German thing.
Well, it could be a track, but it's a handling course with lots of cones. Probably because most of the people who drive on it receive a track day as a sign-on bonus when they buy a car, and BMW doesn't want them to hurt themselves. Same deal if you buy a BMW motorcycle; there are trails in the red dirt all around the paved parts if your new bike is a GS. We stayed on the paved part for most of the first day, going through some military-style drills; the new Contis held air all day.
Nutrition is important, the BMW Performance Center cuisine is very, very nice.
Breakout! On the road
On the second day we busted out and into the wild and wooly backroads between North and South Carolina that splay off from the Blue Ridge Parkway as it passes through the Pisgah National Forest.
My bike for most of the day was a BMW R1250RT police special, complete with working siren, extremely loud, and police arnk-arnk horn. These I was strongly discouraged from using by the ex-police officer who'd been our drill instructor the previous day. Pity. But the new Contis worked great on the BMW. The RT's never been the lightest-handling tourer in the world, and the linear feeling of the Attack 4, kind of its defining feature, very well complements the way the BMW likes to attack the curves, which we proceeded to do.
With enough input at the bars, the BMW is way quicker on its feet (tires) from side to side than you'd expect from looking at it, and the Contis gave it a really solid, planted feel at full lean and all the way there. It probably wasn't full lean, because I never did feel any "GripLimitFeedback" even when the footpeg was dragging.
I need not have worried I'd never find a bike to go with my new Aerostich suit.
If there's anything wrong with the way the Conti RoadAttack 4 works on a new BMW F900XR, it'll take a swifter rider than I to uncover it. Don't worry about the leaves unless they're wet!
K1600B
Usually I'm able to silence my internal critics when they say I have no business testing tires, since I don't even own an active motorcycle. On the other hand, I always have a borrowed testbike or three in the cave, and one of my favorites was the new BMW K1600B I rode the wheels off of for most of the summer. It was nice to get back on one in Spartanburg.
At the end of day two as the sun was setting, they did let us loose to rip some laps around the handling course, and my favorite bagger did start right in feeling like a giant sportbike on the Contis – again with the super linearity from full lean to full lean – which makes for very predictable steering into tight corners and fast sweepers; braking hard while turning doesn't much influence the bike either. 
Pushing the front, Fast Freddie style…
Sadly, we were just starting to get the lay of the land when a few rain specks hit our faceshields, which didn't slow us down at all. But the BMW guy with the checkered flag did.
My summer loaner K1600B wore Bridgestone tires, and I remember thinking how good they felt out here in our California environment. Are the Cont RoadAttack 4 tires better? I, I can't really say after a half hour. But they are very nice, very smooth riding and steering premium tires (no bumps on the test track), suitable for 200-horsepower superbikes as well as big sport-tourers according to Conti (though BMW's 200-hp steeds were notable by their absence, they're probably not the best trainers). 
3-Year warranty
There are so many good choices when it comes to tires, I think if I was shopping for new tires for such a nice motorcycle, one thing that might sway me would be Continental's three-year flat tire warranty: If you get a flat within three years of purchase, they'll pay the tow to get you wherever your bike needs to go to get fixed, up to 150 miles. They say that's an industry exclusive.
Not only are these going to be available to fit all kinds of motorcycles beginning in 2023, but they'll also come in 19-inch front sizes to satisfy ADV nuts who demand sportbike-level front grip like we were discussing last week.
Continental seems to have their program down; they've only been at it since 1871.
Shop for the Conti RoadAttack 4 here
FAQ
What else does Continental make besides tires?
You'll be sorry you asked. Tires are only 35% of the $34-billion Hanover, Germany-based company's biz, with 190,000 employees in 58 countries. Another 23% is IMUs and such – "Vehicle Networking and Information" – and another 22% is "Autonomous Mobility and Safety." The rest is top secret. Part of it probably is anyway. It's a yuge company.
How long will these new Conti RoadAttack 4 tires last?
Another tough question. Conti says the new compound is softer and grippier, but with other adjustments in construction and compound that means wear should be the same as the Attack 3. And that all depends on how hard you ride, on what kind of motorcycle, and in what conditions. It's the reason for the YMMV abbreviation: Your mileage may vary. Good thing there's forums for everything anymore.
Can I run sport-touring tires on my supersport bike?
Indubitably. They'll last longer, and premium ones like these Contis will provide all the grip most reasonably normal riders will ever need for road use – more grip, if they're riding when it's wet and cold – than something like Conti's own SportAttack 3. And they'll last much longer, too.
Additional Resources
MO Tested: Michelin Road 6 Tire Review
Best Sport-Touring Tires To Take You The Long Way To Anywhere
Continental SportAttack3 Tire Review
Michelin Introduces The New Road 6 Tire For Sport Touring Motorcycles
Black Magic: Motorcycle Tires
We are committed to finding, researching, and recommending the best products. We earn commissions from purchases you make using the retail links in our product reviews. Learn more about how this works.
Become a Motorcycle.com insider. Get the latest motorcycle news first by subscribing to our newsletter here.
The post MO Tested: Continental Conti RoadAttack 4 Review First Ride appeared first on Motorcycle.com.
Copyright
© Motorcycle.com