Motorsports Racing News & Blog Articles
Stay up-to-date with motorsports racing news, products, and trends from around the world.
7 minutes reading time
(1398 words)
MO Tested: Sena Impulse Helmet Review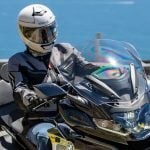 On rare occasions my wife allows me to drive her Mercedes GLE. It's a treat compared to my aging Tacoma. One of its tastiest bits is the Harman/Kardon sound system. When I saw that Sena's newest modular helmet featured the same brand name audio engineering, I was quick to call E-i-C Brasfield and coerce him into letting me test one. He did, and I'm here to report that the Impulse is the best-sounding helmet I've ever worn. 
Sena Impulse Helmet
The person at Sena who greenlighted the extra expense to utilize Harman/Kardon's audio expertise in its new Impulse modular helmet deserves a promotion. The Impulse is the new benchmark for motorcycle helmet sound quality.
Aesthetics
8.5/10
Protection
8.5/10
Comfort
8.75/10
Value
9.75/10
Weight
8.75/10
Innovation
9.5/10
Quality
9/10
Options
8.5/10
Weather
9.5/10
Desirability
8.75/10
Editor Score: 89.5%
| | |
| --- | --- |
| + Highs Awesome audio experience Integrated helmet/audio unit Retractable sun visor | – Sighs Chin straps are too long Only available in two colors Didn't always communicate well with Siri |
With the user-friendly Sena app, a person can quickly establish communications with other riders, check battery life, and adjust equalizer settings, among other features. You can also share the music you're listening to with your connected friends.
The phrase, "best-sounding helmet" may seem strange, but the Impulse is not a helmet with an attached audio system, it's an all-in-one, integrated unit with a sleekness of design only an OEM can generate. Whatever magic Harman/Kardon sprinkles into the listening experience works wonders. With the Impulse I'm not just listening to music while I ride, I'm enjoying the music. 
There's bass! This is a statement I've never made when reviewing an in-helmet audio system. For anyone who prefers more bass the Sena app lets you adjust the speaker's output to Bass Boost (130 Hz and below) by choosing one of five preset equalizer settings. I preferred Music Enhanced because it seemed to deliver the best all-around music experience, but there's also a Voice setting if talk radio's your thing, as well as Treble Boost and Music Balance. 
For conversation purposes, the Impulse features Open Mesh for communicating with just about anyone with a similar mesh system, Group Mesh for up to 24 invited guests, and Bluetooth 5.0 intercom mode for private conversations with up to four people. All three variations worked fine when talking with my co-pilot, Maria, who was also outfitted with an Impulse helmet, while we were riding together, but I cannot attest to how large group communications affect the system. While riding a BMW K 1600 GA, Maria's microphone was transmitting more wind noise than mine, which I attest to the turbulence a fully-faired motorcycle creates on the passenger. Adjusting her mic's sensitivity down to level 2 took care of the problem.
According to Sena, the Impulse supports voice commands in eight languages, including English, French, German, Spanish, Italian, Chinese, Japanese, and Russian. I only speak English, so verifying this claim is difficult, but I did have trouble getting Siri to place phone calls using the voice command function. Maria, on the other hand, had no such problems.
At the bottom rear of the Impulse, you'll find its very indiscreet magnetic connector for charging the battery. Included in the purchase price is a charging cord and a very handy adapter allowing any cord with a USB-C connector to charge the helmet if you're in a pinch.
I've been wearing the size medium Sena Impulse during shorter rides for a while, but a recent three-day, 1,000-mile trip with 20+ hours of seat time convinced me that the Impulse is a comfortable helmet. If a pressure point were going to appear, it would have during this trip. Sena says it's an intermediate oval fit, and that's my preferred shape from other helmet manufacturers. The only adjustment I made to the helmet's interior was swapping the doughnut-shaped ear inserts for the solid flat ones (included with purchase). Maria was also happy with the fit and feel of her size small Impulse helmet, reporting no discomfort during our three-day road trip.
When riding a motorcycle without much fairing protection, I could feel the air flowing across my scalp from the upper vent when open to the two exhaust vents in the rear. The Impulse also comes with a Pinlock for keeping the visor from fogging during inclement weather. Because of their design, modular helmets have more seams to generate wind noise than regular full-face helmets, but I didn't find any excessive noises with the Impulse. The chin guard locks solidly into place when closed, and stays in the up position when open.
The Impulse is outfitted with a micro ratchet buckle attached to a chinstrap with enough adjustment for someone with three or four chins. At approximately three pounds nine ounces, including the audio equipment, battery, and internal sun shield, the Impulse is lightweight for a modular helmet including these amenities.
On the first day of our three-day trip, my battery did run out of juice after only eight hours of use, while Maria's was still strong upon arriving at our destination at the end of the day. I later discovered that I had left the "taillight" on the back of the helmet in the on position, which definitely helped drain the battery quicker. After switching the taillight off the next day, utilizing Bluetooth communications, and streaming music we both had  54% battery life at the end of our nine-hour ride.
Retailing at $699, the Impulse is quite an attractive option for the modular helmet shopper. Comparatively, a solid color Shoei Neotec II retails for only $100 more than the Sena, but to get the Shoei outfitted with its optional Shoei Rider Link (a communication system built in conjunction between Shoei and Sena), you'll need to spend another $299, bringing its total retail price to $1,100. 
Audio controls are stacked vertically right behind the face shield. The design and integration are minimalist, and the buttons are easy to reach and manipulate once you know the configurations. The retractable sun visor is a welcome nicety, as is the included Pinlock anti-fog lens.
The shell of the Impulse is constructed from composite fiberglass and is DOT certified. The interior comfort liner is removable and washable. The helmet's build quality seems top-notch with no overwhelming wind noise and no creaks or flexing when opening or closing the chin guard. The face shield is easily removable via a single spring-loaded latch on each side of the helmet, and its replacement cost is a reasonable $35. There's also a chin curtain to help keep the wind from entering. Currently, the Impulse is only available in two solid colors, Matte Black or Glossy White. Hopefully, Sena will be able to increase its color options in the near future. 
With the Impulse, Sena is leading the charge into the future of integrated helmet interconnectivity. The Impulse checks all the boxes of being a quality modular helmet, even without the Harman/Kardon sound system. Once you include that audio bonus, and the helmet's other amenities, for its $699 price point, the Impulse is a solid contender against more established helmet manufacturers. 
For more information on the Sena Impulse modular helmet or other Sena helmets, visit Sena.com.
Check prices for the Sena Impulse Helmet here
The rear of the helmet features a taillight that can be switched between blinking, solid, or off.
Sena Impulse Helmet FAQ
What is the use of Sena in a helmet?
Sena manufactures both Bluetooth/Mesh helmet communication systems that mount to helmets and helmets with Bluetooth/Mesh helmet communication systems built in. These systems allow for communication between similarly-equipped riders while with in receiving range out on the road. Additionally, the Bluetooth connection links smartphones and other accessories to the rider's helmet for turn-by-turn directions, playing music, taking phone calls, etc. Motorcycle.com's editors have all found value in the services offered by helmet communicators.
Are Sena helmets DOT approved?
Currently, Sena's helmets' certification only have DOT certification listed.
Additional Resources
MO Tested: Sena Momentum Helmet
MO Tested: Shoei Neotec II Helmet + Sena SRL Communicator Review
We are committed to finding, researching, and recommending the best products. We earn commissions from purchases you make using the retail links in our product reviews. Learn more about how this works.
Become a Motorcycle.com insider. Get the latest motorcycle news first by subscribing to our newsletter here.
The post MO Tested: Sena Impulse Helmet Review appeared first on Motorcycle.com.
Copyright
© Motorcycle.com