Motorsports Racing News & Blog Articles
Stay up-to-date with motorsports racing news, products, and trends from around the world.
7 minutes reading time
(1310 words)
MO Tested: USWE Core 25 Backpack Review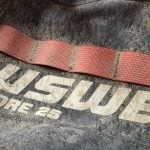 With its innovative cutting edge NDM technology, Swedish brand USWE has revolutionized the back satchel game. Whoa. Bold statement, aye? I get a kick out of the phrase "NDM technology" since NDM stands for No Dancing Monkey. But, opinions of the brand's marketing choices aside, it's kind of true. Having used the USWE (pronounced: yoo-swee) Raw 8 and the Core 25, I'm sold on the usefulness of the brand's bounce-free backpacks.
USWE Core 25 Backpack
The Core series brings USWE's bounce-free design to a pack that's suitable for longer hauls.
| | |
| --- | --- |
| + Highs Plenty of space for the long haul Doesn't dance around like a monkey on your back Separate pockets for tools and other essentials | – Sighs Doesn't come with a hydration bladder Cell pocket can be a bit close the bottom of your helmet A tad spendy |
"Our mission from day one, is to design packs that you can wear in action, with a super race-fit so it's like wearing nothing at all. That's why we make action packs for the athlete in you."
An illustration to show what the brand means when it says "dancing monkey". The idea behind USWE's packs is that they stay in place rather than "dancing" around.
The key to being bounce-free is USWE's use of its No Dancing Monkey 2.0 + Snug-Me harness system. Essentially, the pack uses heavy-duty elastic at the bottom of the four-way center-clasped harness system in addition to an elasticated waist strap to keep things snug. Unlike the Raw 8 – and the company's other smaller enduro-focused packs – the Core 25 does not use any sort of elastic suspension on the upper straps, though there is a fair bit of adjustability to ensure as snug a fit as you would like.
The back panel that the upper straps are connected to can be adjusted to fit short or long torsos. With the Core 25, the elastic strap at the bottom of the harness is also the waist belt so, as you adjust the top, you'll also need to make an adjustment at the belt as well. The result is a comfortably tight fit (there is a pretty broad range of adjustment to fit different sized folks) that still gives enough stretch to keep the pack from "dancing" around on your back. For technical trail riding, the smaller Raw 8 pack has worked most excellently and fortunately, I found the Core pack to offer the same performance over a few days of dual-sport riding in the middle of BFE. And, with the Core 25's 25 liters of storage, you get some handy compartmentalization and enough capacity to stow more than a few day's worth of socks and undies, among other things.
I was pleased to find there was enough room below the pack to comfortably wear my tool belt.
Despite our trip being cut short due to some significant snowfall in the area, I still managed to pack everything I needed comfortably for a six day point-to-point ride where everything except my tools were packed into the Core 25. 
In contrast to the Raw 8 pack that I use for technical trail riding, the Core 25 has a snug, but not too snug, fit. I'd compare the packs as race fit for the Raw series versus touring fit for the Core series, in terms of moto gear.
The main compartment is fairly open but has a pocket and velcro tab to hang a hydration bladder as well as a zippered mesh pocket for smaller items. The second largest compartment is nearly as large as the main, but without the depth. More mesh pouches, zippered and not, can be found there. In addition, USWE includes a small semi-hard case with foam in it which can be used for tools, electronics, or whatever other items you'd like to keep a bit better protected. Up top, you have a large fleece-lined goggle pocket which I was able to fit two 100% goggles in. 
Fortunately, I haven't had any get-offs while using the Core 25, but in the inclement cold and wet weather (no really hard driving rain), the pack has kept my belongings dry.
The waist strap also features a pocket on either side which is great for items you might want quick access to on the trail like a multi-tool, lip balm, sunscreen, etc. On the upper strap is a pouch meant for your cell phone or a small camera. This pocket can be attached to the right or left side and thankfully, has some stretch to it so you can fit your ever-expanding smartphone (my Samsung S20+ pushes its limits) inside. 
Where your back contacts the pack, there are strategically placed foam ridges to help airflow and breathability. I have yet to use the Core 25 in hot weather, but I would imagine it ventilates as expected.
Outside, you have a number of MOLLE type attachment points on the straps and front of the pack, four buckled adjusters on the sides to keep your pack as small as possible given its contents, two straps at the bottom give you the option to cinch down a rolled up pack jacket or something like it, and two buckled adjusters at the shoulders to ensure a precise fit at the shoulders. 
Unfortunately, the Core packs do not come with a hydration bladder. I use the 3 L USWE bladder (shown) that came with the Raw 8 pack, but the Core 25 should fit a large number of bladders from other brands as well.
As the Core line comes from a long lineage of hydration packs, hydration tube routing comes out of the middle of the pack and can be routed down either side. There is also a magnetic clip that can be attached to your drinking tube that easily falls back and into place onto the other side attached to the upper strap. 
If 25 liters of storage is more than you'll ever need, the Core pack also comes in a smaller 16 L model.
I'm really happy with the performance of this pack relative to the other USWE stuff I've used. The pack offers plenty of storage and does not move around despite how loaded down you have it. If you find yourself doing significant gear changes during your ride, you may have to adjust the straps along the way, but for me, I was able to set it while wearing an armored jacket, jersey, and vest and the fit wasn't too tight when I added on a wind breaker for lower temps. 
The Core 25 is now my go-to pack for multi-day dual-sport activities, or if I find myself needing to carry more stuff off-road. I do still tend to reach for the Kriega or Velomacchi for short blasts around town or street riding, but for off-road, the Core 25 and Raw 8 have most of my needs covered for multi-day trips to technical trail riding. 
Shop for the USWE Core 25 Backpack here
FAQ
Where are USWE packs made?
USWE packs are designed in Sweden. The Core 25 pack says it is manufactured in Vietnam. 
How do you pronounce USWE?
You-swee.
What does USWE stand for?
The company tells us USWE means "kick ass" in Swedish. Since we do not speak the language here at MO, we can neither confirm nor deny. 
Additional Resources
MO Tested: USWE Raw 8 Hydration Backpack Review
Best Motorcycle Backpacks
MO Tested: Kriega Hydro 3 Enduro Backpack
10 Ways To Keep Cool In Hot Weather On A Motorcycle
We are committed to finding, researching, and recommending the best products. We earn commissions from purchases you make using the retail links in our product reviews. Learn more about how this works.
Become a Motorcycle.com insider. Get the latest motorcycle news first by subscribing to our newsletter here.
The post MO Tested: USWE Core 25 Backpack Review appeared first on Motorcycle.com.
Copyright
© Motorcycle.com